File Integrity Monitoring for FedRAMP Compliance and Increased Security Posture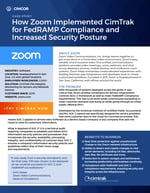 With thousands of systems deployed across the globe, it was critical that Zoom achieve compliance for Service Organization Controls (SOC) 2 framework as well as meet FedRAMP Compliance requirements. This had to be done while continuously expanding to meet customer demand and doing so while going through an initial public offering (IPO).
"Without CimTrak in place we would have a compromise that we would not know about until it was too late." -John Keese, Zoom Video Communications, Head of Compliance.
Learn how CimTrak's file integrity monitoring software helped Zoom detect changes to servers and network devices in real-time.
Within this case study you'll learn about:

Real-time protection against authorized change to Zoom's network

infrastructure

Compliance with FedRAMP Compliance requirements and SOC 2 controls , ensuring security and integrity across the infrastructure